Welcome to the first of a series about the firm's history. We begin with our founder's humble beginnings.
When Hobert Nelson opened his Tahoka law office on May 25, 1928, he started what became the McCleskey Law Firm, which today celebrates 95 years of serving Lubbock, West Texas and beyond.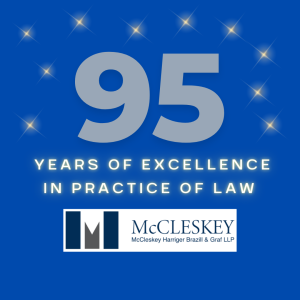 Hobert's family arrived in East Texas from Alabama in the mid-1800s. They settled in Cass County at a place called Crossroads, a spot between settled and unsettled lands around the time Texas became a state.
His grandfather was a skilled iron worker and carpenter who fought for the Confederacy in the Civil War.
Hobert's father, Henry, eventually became County Judge of Cass County … after his wife Ella taught him how to read and write.
Garrett Hobert Nelson was born in his parent's two-room house just north of Hughes Springs in 1902.
During that year:
Theodore Roosevelt was president.
The first college football bowl game was played, the Rose Bowl between Stanford and Michigan.
America's first movie theater opened in Los Angeles.
Texas Oil Company (Texaco) was founded.
He went by Hobert, G. Hobert or G.H. – never using the name Garrett.
Ella taught Hobert to knit, crochet, needlepoint, quilt and cord cotton. Later, Hobert enjoyed quilting parties at his Aunt Lula's home when he was in college at Commerce.
Hobert made his first money selling back-eyed peas and cucumbers from the family garden. He also picked up pieces of coal along the railway track, selling it to homes and businesses at 25 cents for 100 pieces. He loaded cotton at the railway dock.
He got his first pair of long pants at age 15.
When Henry was elected Cass County Judge and moved north to Linden, Hobert stayed in Hughes Springs where he was going to high school. He worked as a janitor for the high school building and lived on a couple's farm for $15 a month room and board.
Hobert won several medals in debate and dramatics – which served him well later in his legal and political career.
After graduating high school in 1919, he rode trains north to Kansas, working the wheat harvest to pay for college.
During that year:
Troops were returning to America after World War I.
Prohibition was authorized.
The right for women to vote was approved.
Pancho Villa attacked Ciudad Juarez and when bullets flew across the border into Texas, the U.S. 7th Cavalry Regiment crossed the border to push Villa's forces back.
In the fall, he entered East Texas State Teachers' College in Commerce – a little more than 80 miles west of his hometown – living with his Aunt Lula and her husband.
Hobert worked at the Commerce Hotel, making beds, waiting tables and serving as desk clerk while studying pre-law.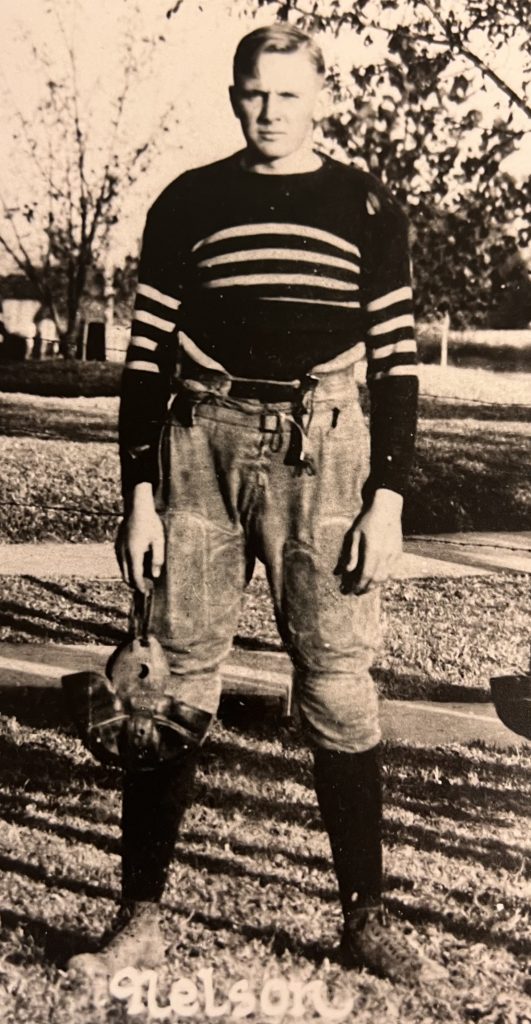 He also played football for his school – picking up the nickname "Tuffy."
The 6-foot tall, 180-pound Hobert started at guard on his team's offensive line. The first game he played was also the first football game he'd ever seen.
Hobert's coach told the team to "go in there and fight with all you've got."
A dispute arose over an official's call. Hobert's coach was talking to an official when one of the opposing players made a rude remark to the coach. Hobert hit the player in the jaw and was thrown out of the game.
He was very upset and asked his coach why he didn't tell him it was against the rules to fight. He never missed another minute of an East Texas game.
In 1921, he enrolled at the University of Texas Law School. He arrived in Austin with $45.25. Tuition was $45.
Hobert sold magazines door-to-door and lived in the basement of Mrs. Stelfax's Boarding House for Women, complete with dirt floor, cots and one light bulb. He shoveled coal and waited tables for his room and board.
Hobert played on UT's freshman team but did not play further because he needed to study and work to pay for school.
Clyde Littlefield, UT football coach, talked about Hobert in 1938, almost two decades after he saw him play.
"G.H. Nelson was an outstanding prospect for the varsity football team and made his freshman numeral in 1921. He would have been splendid material for the varsity team in 1922, but he had to work in the afternoon to put himself through school and therefore could not play football. He was a very likeable fellow and worked well with the coach."
During the summer of '22, Hobert worked for Adams Extract, selling its food products to housewives and businesses all over Central Texas to pay for his next year of law school.
During that next school year, he was bottling extract while hearing "The Eyes of Texas" playing at the first UT football game in the distance.
It was a story he'd tell later to his children and in political speeches on the need for sacrifice and hard work.
Industrious Hobert also created the Nelson Student Transfer Company to help students move in and out of school.
The summer of '23 he sold Pictorial Review Magazine across Texas with a crew. While in the West Texas town of Roscoe he saw the high school needed a principal. Hobert was at a crossroads. He wasn't making enough to pay for his next year of law school. He applied and at age 21 was a high school principal.
A year later he married Minnie Aileen Hackney. Like Hobert, she was born in Hughes Springs. But they didn't meet until school in Commerce. The first time she saw Hobert he was in a debate.
After the wedding, they both got teaching jobs in the West Texas town of Hermleigh. They were driven by Aileen's parents in a Ford Model A. The last pavement ended ten miles west of Ballinger. Hobert and Aileen rented a room in a woman's house, where they were not allowed to play dominoes or card games in the house. Their entertainment was reading or walking downtown to the store.
They spent a lot of time reading law books, with Aileen reading aloud to Hobert so both could learn and be entertained.
A year later, the couple moved more than 80 miles northwest to Tahoka, where Hobert was Superintendent of Schools. Hobert and Aileen opened the town's first plant nursery. Aileen planted Chinese Elm trees along the Lubbock Highway north of Tahoka.
But Hobert got into an tussle with an influential parent. Hobert wouldn't allow the man's son to play football because of some misconduct. Hobert's refusal to compromise cost him his job.
The Nelsons and their first child, Willella, moved to Ralls in Crosby County where they worked for the Chamber of Commerce.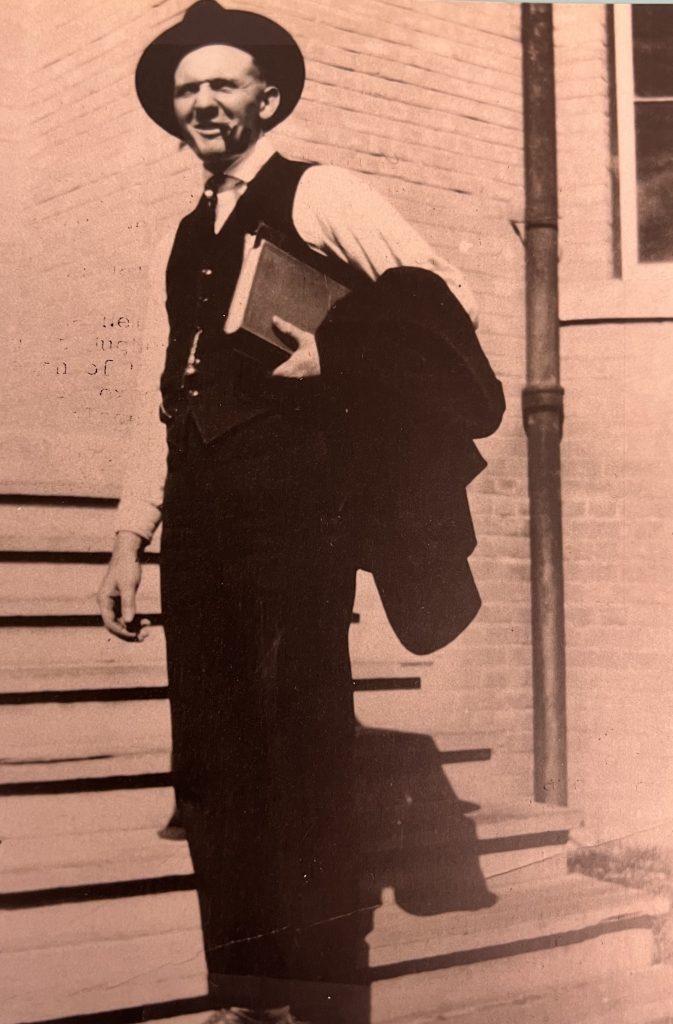 With his wife's help, Hobert continued to study law at home. He passed the Texas Bar Examination in late 1927 and the Nelsons returned to Tahoka where Hobert opened his law office on May 25, 1928 in the First National Bank Building.
He was 26 years old.
His first fee of $10 was collected in a foreclosure on a laborer's lien. The case was Ainsworth vs. Winter Knight. Winter had a brother named Summer Knight. The Knight family and Nelsons remained close friends through the years.
A day later he collected $17.50 for successfully negotiating a settlement of labor claims on a share crop.
On June 18, Hobert collected $250 to represent a man charged with murder and the case was continued to March 4, 1929.
Later that year he took a case with a fee of $25, collected $30 cash, spent $3.75 on court costs and took mortgage on two mules for a balance of $122.50.
Over the years, Hobert was known among fellow lawyers for not being bashful about setting and collecting his fees but was also respected for the representation he gave for those fees.
Hobert often said he enjoyed the thrill of making money more than he enjoyed what that money could buy, possibly driven by just having enough in his formative years to get by day to day.
Also in 1928, he was elected Tahoka City Attorney. He also ran for County Attorney of Lynn County and took that office January 1, 1929.
The Depression was right around the corner and another World War was about a decade away.
But in the late 1920s, Hobert Nelson's law practice and political career were taking off.